Lusaka District Commissioner Davies Mulenga has appealed to traders in Lusaka to desist from selling in undesignated places as the rain season approaches.
Captain Mulenga says street vending is one of the causes of cholera adding that the country should not experience the epidemic like it did last year.
Speaking on the sidelines of the Independence day celebrations in Lusaka today, Captain Mulenga said that he's office has been engaging in consultative meetings with stakeholders on the best ways to avoid cholera and noted that traders should trade from clean designated places.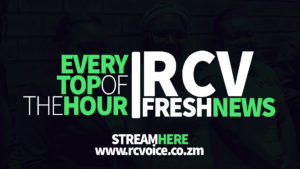 TUNE IN FOR THE DETAILS AT 13, 18 & 22HRS EVERY SINGLE DAY ON RADIO CHRISTIAN VOICE.